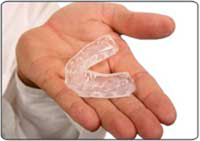 What are sports mouth guards?
These are appliances worn while playing contact sports, and they ensure safety of the teeth by providing a cushioning effect.
Why do I need a mouth protector?
Anyone who participates in a sport that carries a significant risk of injury should wear a mouth protector. This includes a wide range of sports like football, hockey, basketball, baseball, gymnastics, and volleyball.
Mouth protectors, which typically cover the upper teeth, can cushion a blow to the face, minimizing the risk of broken teeth and injuries to the soft tissues of the mouth. If you wear braces or another fixed dental appliance on your lower jaw, you may require a mouth protector for these teeth as well.
What sporting activities require the protection of a mouth guard?
There are a number of sports where it should be painfully obvious to the participant that a mouth protector should be worn. Clearly boxing would be such a case, but there are other examples as well in which a sports injury that could have been prevented with a mouth guard. Therefore, athletes participating in contact sports (sports where player to player contact is a regular and expected part of the sporting event) should protect their mouth with a guard. Football, boxing, ice hockey, lacrosse, field hockey, roller hockey, soccer, rugby, basketball, martial arts, water polo, and wrestling should all be considered sports where the use of a mouth protector is paramount.
What are some of the specific types of benefits that a sports mouth guard can be expected to provide?
1) Sports mouth guards can help prevent tooth fracture, tooth dislocation, and bone (jaw) fracture.
2) Sports guards can help to prevent bruising or laceration of the soft tissues of the mouth.
3) Wearing a mouth guard may help to protect an athlete from concussions.
4) Sports mouth protectors can provide a psychological benefit for an athlete.
What are the advantages of using a mouth protector?
Accidents can happen during any physical activity. A mouth protector can help cushion a blow to the face that otherwise might result in an injury to the mouth. A misdirected elbow in a one-on-one basketball game or a spill off a bicycle can leave you with chipped or broken teeth, nerve damage to a tooth or even tooth loss. A mouth protector can limit the risk of such injuries as well as protect the soft tissues of your tongue, lips and cheek lining.
A properly fitted mouth protector will stay in place while you are wearing it, making it easy for you to talk and breathe.
I wear braces. Can I use a mouth protector?
A properly fitted mouth protector may be especially important for people who wear braces or have fixed bridge work. A blow to the face could damage the brackets or other fixed orthodontic appliances. A mouth protector also provides a barrier between the braces and your cheek or lips, limiting the risk of soft tissue injuries.
Talk to your dentist or orthodontist about selecting a mouth protector that will provide the best protection. Although mouth protectors typically only cover the upper teeth, your dentist or orthodontist may suggest that you use a mouth protector on the lower teeth if you have braces on these teeth too.
If you have a retainer or other removable appliance, do not wear it during any contact sports.